Applications of Pneumatic Technology in Hydrogen Fuel Cells
Hydrogen Fuel Cells are a promising technology for a wide range of applications, from powering vehicles to providing backup power for homes and businesses.
At Kelly Pneumatics, we offer a variety of pneumatic control devices to meet the specifications of the most demanding Fuel Cell Applications. Our Electronic Pressure Regulators and Proportional Valves are designed to provide precise control of Hydrogen flow and pressure in Fuel Cell Stack circuits and Proton-Exchange Membrane (PEM) technology, providing dynamic control of Hydrogen to be processed into energy. 
If you are interested in learning more about our hydrogen electronic pressure regulators or other pneumatic technologies, please contact us today. We would be happy to discuss your specific needs and how our products can help you achieve your goals.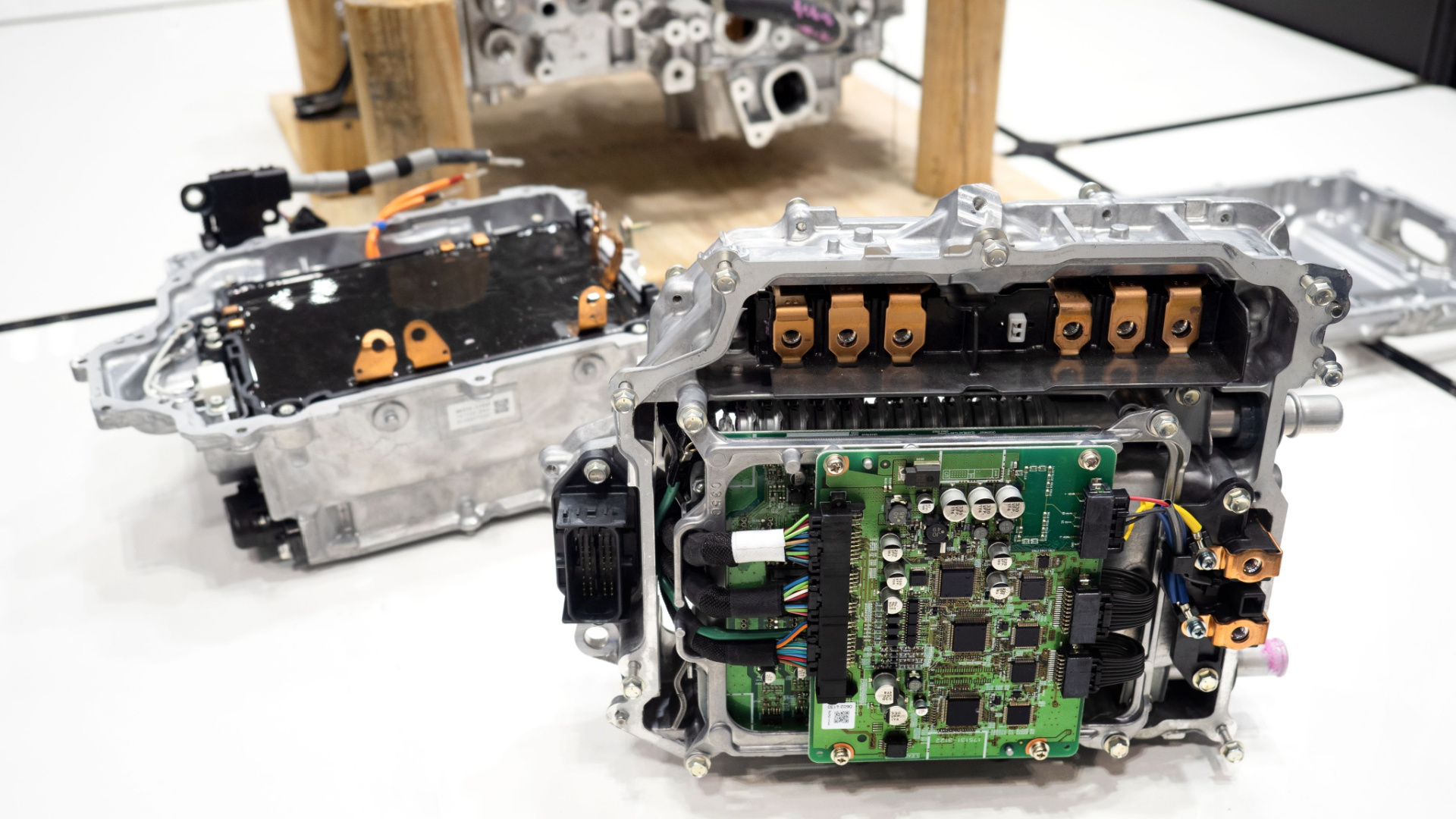 Our Electronic Pressure Regulators are a perfect solution for using precision pressure control to precisely control Hydrogen pressure to the Fuel Cell Stack. The regulator can be controlled via a PLC or Microcontroller to dynamically adjust output pressure and resultant flow.
The Proportional Valves deliver direct, precise flow control of Hydrogen flow to the Ejector Manifold in fuel stack systems. It can also be used as a purge valve if variable flow rates are required.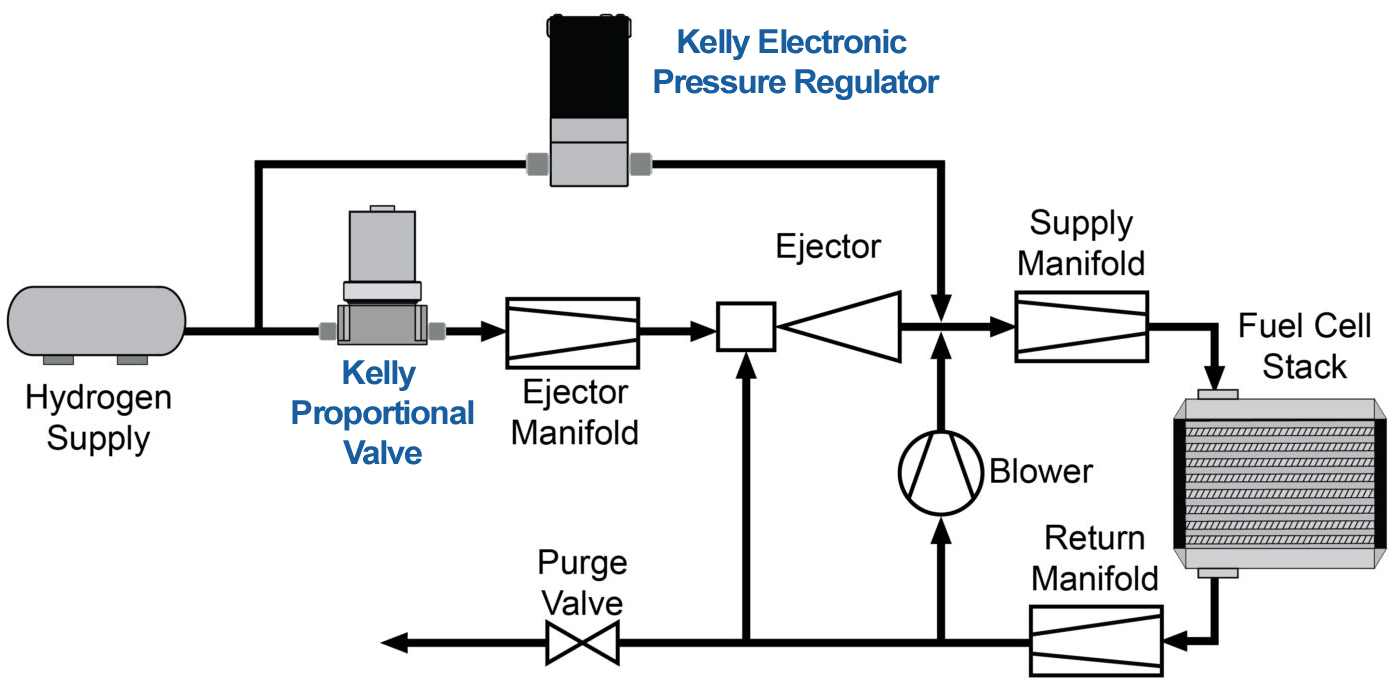 The fuel cell industry is a rapidly evolving sector, contributing significantly to the renewable energy landscape. A pivotal aspect of this industry is the fuel cell leak testing and membrane permeability testing. Ensuring the integrity of these systems is crucial for efficient fuel cell operations and safety. Kelly Pneumatics, a leading manufacturer of high-precision pneumatic control components, plays a significant role in optimizing these testing processes with their Midsize Proportional Valve Electronic Pressure Regulator and Digital Mass Flow Meter.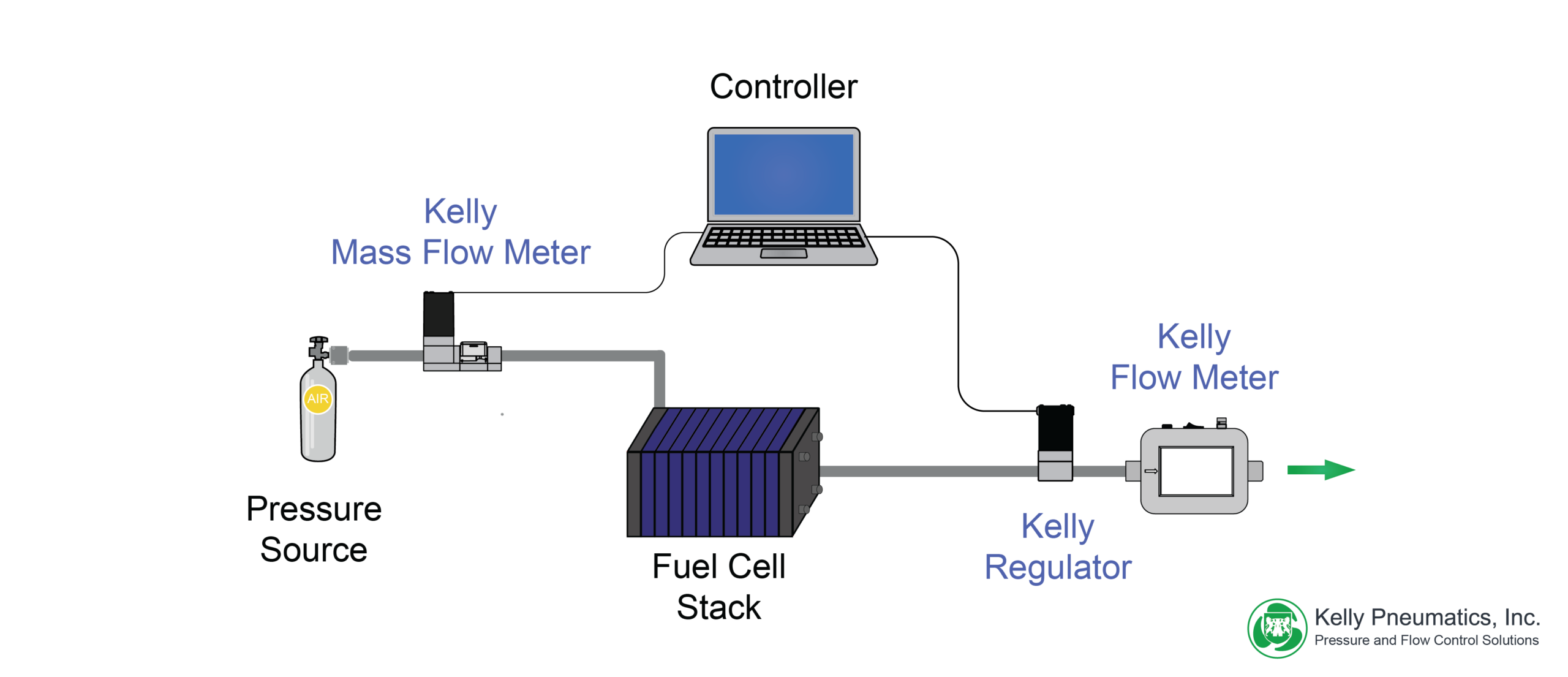 Tell Us About Your Application
Controlling Air Supply in Cooling Systems for Hydrogen Fuel Cells
A fuel cell is an electrochemical device that converts chemical energy from a fuel into electrical energy. Hydrogen is often used as fuel for fuel cells, and the most common type of fuel cell is the hydrogen fuel cell.
In order to work properly, fuel cells must be cooler than the operating temperature of the electrolyte, typically around 80°C. If the fuel cell gets too hot, the electrolyte will begin to decompose, and the reaction will become less efficient. For this reason, cooling systems are essential for the proper operation of fuel cells.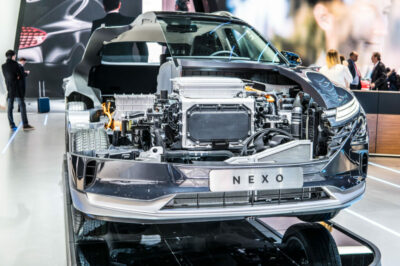 Flow Control Systems For Proton-Exchange Membrane Fuel Cells. (PEMS)
Proton-exchange membrane fuel cells (PEMFCs) are a type of fuel cell that uses hydrogen and oxygen to produce electricity. PEMFCs are typically used in automotive applications, as they are efficient and have a small footprint. Mass air flow controllers, proportional valves, and pressure compensating valves play an important role in the function of PEMFCs. mass air flow controllers regulate the amount of air that flows into the fuel cell stack. This is important, as too much or too little air can negatively affect the performance of the fuel cell. Proportional valves are used to control the flow of reactant gas (hydrogen or oxygen) to the fuel cell. The valves are typically located at the inlet of the fuel cell stack.