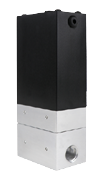 Electronic Pressure Regulators
Digital Pressure Regulators offer numerous advantages over mechanical regulator designs. A mechanical pressure regulator controls pressure and stabilizes flow rate, regardless of how the downstream conditions vary. Our electronic pressure regulators come in many forms. A simple device may be enough when accuracy matters little, but a digital pressure regulator delivers better accuracy, variable control rates via a control signal, and a feedback signal to create closed-loop pressure control. Kelly Pneumatics makes electronic pressure regulators for demanding applications in the medical product, semiconductor manufacturing, and test engineering sectors.
You can't assume flow and pressure will remain constant. Pumps and compressors deliver pulses, and pressure fluctuates with demand. When a mechanical pressure regulator lacks accuracy or can't respond fast enough, the result is an unstable process. Temperatures, concentrations and moisture levels will vary, causing inconsistency that reduces process capability and hits your yields.
A Kelly Pneumatics electronic pressure regulator delivers superior resolution, repeatability, and response. This is achieved through a patented dual proportional valve design combined with our advanced PID control technology. The result is greater output flow and pressure stability. This reduces variation and produces more consistent process control.
Closed-Loop Control for High Tech Applications
Mechanical pressure regulators are typically only manually adjustable, limiting usability in high tech applications. When using an electronic pressure regulator with a digital control system, such as a microcontroller or PLC, precise output pressure can be controlled dynamically. An internal pressure transducer creates a true closed-loop control device, and offers a feedback voltage of the current output pressure. By reading this feedback signal from an electronic regulator, control systems can make real-time adjustments, greatly improving consistent pressure regulation in the most demanding applications.
Pressure-Regulating Products From Kelly Pneumatics
We manufacture both electronic pressure regulators and relief valves. Our pressure regulators are available in low and high flow designs and handle pressures from vacuum up to 100psi. Our electronic pressure relief valve operates over a range from 1-100psi.
Our electronic pressure regulator may be configured to use either an externally supplied, dynamic input signal, or an on-board adjustable set-point potentiometer. Options are available for control/feedback signals of 0-5 or 0-10V. Input power may be either 12 or 24V.
Our high flow pressure regulator is designed for a maximum of 515 slpm/18.2 scfm. The low flow regulator has an upper limit of 6 slpm/.25 scfm. The pressure relief valve also operates at up to 515 slpm/18.2 scfm. (All flows at 100psi.) Regulators are intended for an output pressure ranging from -14.7 to more than 100psi.
Several types of fluid connections are available to suit the intended application. Low flow regulators can be specified with 1/8″ FPT, 1/4″ FPT, 5/32″ OD tube fittings or #10-32 female ports. High flow regulators have the option of 1/8″ or 1/4″ FPT supply and outlet ports or a #10-32 female exhaust port. The pressure relief valve can be configured with either 1/8″ FPT or 1/4″ FPT connections.
A Superior Kind of Digital Pressure Regulator
By incorporating patented technology, Kelly Pneumatics digital pressure regulators provide exceptional closed-loop, proportional control over output pressure. Fast response, coupled with high resolution, repeatability and excellent linearity ensure the stability needed by processes that are sensitive to pressure variation. Learn more about our digital pressure regulators by contacting Kelly Pneumatics today.
Not Sure Which Regulator You Need?
Please Tell Us About Your Application. We'll Help You Select the Perfect Regulator For Your Project.