Zero-Bleed Precision Pressure Regulator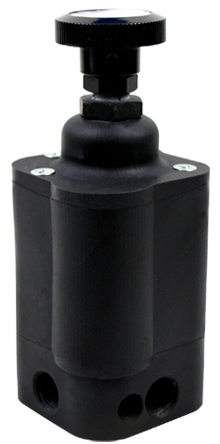 Features
No Bleed Rate to Atmosphere
High Precision output pressure control
Max Flow Capacity of 480 LPM
Quiet Operation
Bubble tight seal when deactivated; can be used as shut-off valve
The Precision Pressure Regulator, is a single-turn, high accuracy pressure regulator for air and gases. The regulator incorporates two internal proportional valves, offering significant improvements over other mechanical pressure regulators. The Precision Pressure Regulator's unique, dual proportional valve design eliminates bleed to atmosphere, and offers true zero pressure output when deactivated. The internal proportional valves maintain regulated pressure with varying flow rates, meaning changes in supply pressure do not affect the downstream output pressure. Additionally, an internal microprocessor assists in maintaining precision output pressures during dynamic pressure changes to the system.
The incorporation of the proportional valve design and an internal microprocessor means that the regulated output pressure immediately and accurately adjusts to dynamic changes in supply pressure and flow rates. For many other precision regulators, the regulated pressure rises as the inlet pressure drops, and the regulated pressure drops as flow increases. Our precision regulator maintains extremely high accuracy, even if the inlet pressure fluctuates, or the flow rate changes dynamically. This feature incorporates a microprocessor controlled system that finitely adjusts the internal proportional valves to maintain high accuracy in dynamic conditions.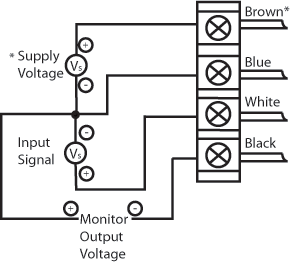 * Omitted for Turn-Key Power Supply option
| | | | | |
| --- | --- | --- | --- | --- |
| Terminal Number | 1* | 2 | 3 | 4 |
| Lead Wire Color | Brown | White | Blue | Black |
| Function | Power Supply Voltage | Control Signal | Ground | Feedback Signal |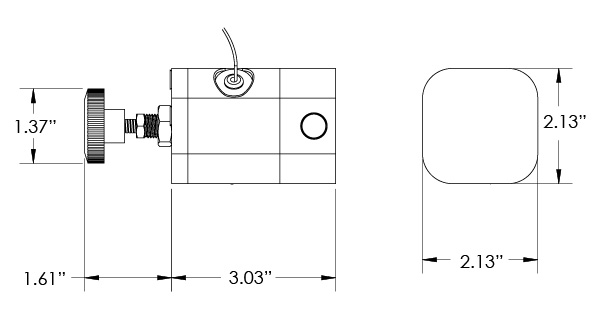 Purchasing Information
After completing your order, you will receive an email confirmation, as well as a shipment tracking number when your order has shipped.
Payment: We accept PayPal Account payments and most major credit cards. Phone orders are also accepted.
Refund Policy: Give it a try! We offer a 30-Day refund period for all orders. If you ship back the order and confirm your return is in transit within 30 Days of receiving the order, we will refund the cost of units ordered. This refund does not include parts that are damaged by you or missing components. All shipping costs are non-refundable unless the package was incorrectly shipped or you received defective products.
Cancellations: You can cancel your order for a full refund If your order hasn't shipped. Contact us and submit your order number to request a cancellation.