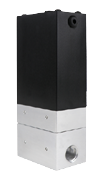 Electronic Pressure Regulators
Our Precision Electronic Pressure Regulators offer a dual proportional valve design with PID control circuitry. Using either an externally supplied, dynamic input signal, or an on-board adjustable set-point value, these pressure regulators provide exceptional closed-loop, proportional, output pressure control characteristics. By utilizing proportional valve technology, each Precision Electronic Pressure Regulator performs with excellent resolution and consistency. The Precision Pressure and Flow Controller product line consists of two categories: pressure regulators and a pressure relief valve.
Not Sure Which Regulator You Need?
Please Tell Us About Your Application. We'll Help You Select the Perfect Regulator For Your Project.