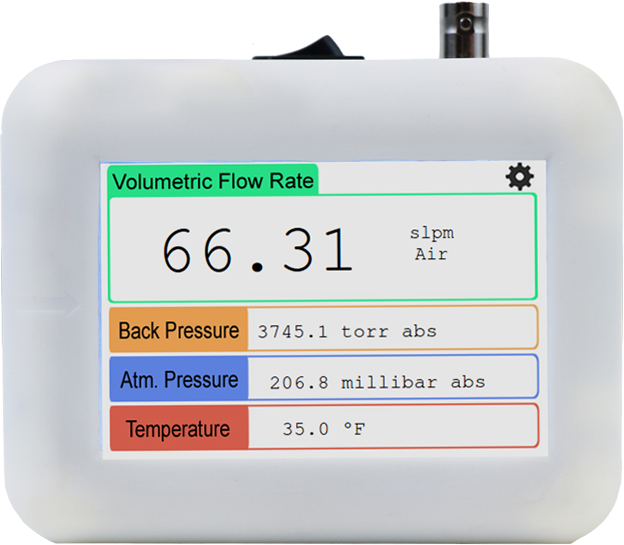 Kelly Pneumatics Digital Flow Meters are able to accurately measure and display mass flow rate, volumetric flow rate, gas temperature, atmospheric pressure, and gas pressure for various gases, including Carbon Dioxide, Air, and Oxygen. Unlike most flowmeters, the Digital Mass Flow Meter has a touch screen interface, offering immediate customization in seconds. This customization includes selecting the preferred units for each specification, including many standard units typical to scientific and engineering applications. For using a mixture of Air and Oxygen, the percentage of oxygen is adjustable. And unlike most flowmeters, our electronic air flow meter can automatically adjust for typical errors in flow calculation due to back pressures of up to 100 psig. The unit also has an optional output of 0-5 volts as a measure of flow rate, with an adjustable sample rate based on user preference, for use with an oscilloscope or volt meter.
Tell Us About Your Application
We'll Contact You Soon with More Information
Purchasing Information
After completing your order, you will receive an email confirmation, as well as a shipment tracking number when your order has shipped.
Payment: We accept PayPal Account payments and most major credit cards. Phone orders are also accepted.
Refund Policy: Give it a try! We offer a 30-Day refund period for all orders. If you ship back the order and confirm your return is in transit within 30 Days of receiving the order, we will refund the cost of units ordered. This refund does not include parts that are damaged by you or missing components. All shipping costs are non-refundable unless the package was incorrectly shipped or you received defective products.
Cancellations: You can cancel your order for a full refund If your order hasn't shipped. Contact us and submit your order number to request a cancellation.