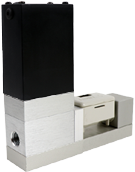 Kelly Pneumatics, Inc. offers proportional valve driven Mass Flow Controllers, for flow applications requiring accurate, linear mass flow control. The High Flow Version is calibrated for up to 1% accuracy (full scale) for flow rates of 0-300 LPM. For greater accuracy, the unit can be customized to 2% of reading, for flow rates above 2.5 LPM. The Low Flow mass flow controller offers +-0.5% Full Scale Accuracy, or +-2% Reading, for 0-10 lpm. Our mass flow controllers can also adjust for back pressures of up to 100 psig, as well as compensate for changes in gas temperature. View our selection of mass flow controller.
Not Sure Which Mass Flow Controller You Need? Email Us!
Please Tell Us About Your Application. We'll Help You Select the Perfect Product.