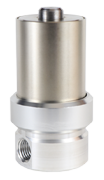 When you need more than on/off pneumatic flow control, consider a proportional valve. A proportional valve provides variable control of output flow rates. Our proportional control valves deliver performance superior to that attainable from the traditional proportional solenoid valve. If our standard products don't do exactly what you need, ask about our ability to customize a proportional control valve to meet applications' requirements.
The Kelly Proportional Valve Range
Our pneumatic proportional flow control valves handle flow conditions from less than 1 liter per minute (LPM) up to 400 LPM. Max pressure is 200 pounds per square inch gauge (PSIG) for standard units unless you choose our pressure compensating valve. (Engineered to handle fluctuating inlet pressure that goes up to 200 PSIG.)
These valves are suitable for practically any gas or fluid you need to precisely control: air, water, oil, hydrogen, and even corrosive gases. Most are available in two- and three-way port designs. All are designed for a control voltage of 0-10 volts or 0-20 volts.
The low friction flow control technology ensures fast response from all our proportional valves. The Mini Proportional Valve and High Flow Mini Valve have response times in the 2-5 millisecond range while others are almost as quick.
When the Standard Product Won't Quite Work
When you're designing precision equipment, there are times when the standard product doesn't quite do the job. In those situations, talk to us.
We'll connect you directly to our engineering team. Cutting out intermediaries this way lets us understand your specific needs faster. From there, we can quickly develop a pneumatic proportional control valve prototype for testing in your application. This enables us to deliver exactly the product you need.
A Different Type of Flow Control Valve
Intended for pneumatic flow control applications in precision applications, our low hysteresis flow valves deliver impressive performance while using very little energy. To learn more, contact Kelly Pneumatics today.
Not Sure Which Valve You Need? Email Us!
Please Tell Us About Your Application. We'll Help You Select the Perfect Valve For Your Project.