The fuel cell industry is a rapidly evolving sector, contributing significantly to the renewable energy landscape. A pivotal aspect of this industry is the fuel cell leak testing and membrane permeability testing. Ensuring the integrity of these systems is crucial for efficient fuel cell operations and safety. Kelly Pneumatics, a leading manufacturer of high-precision pneumatic control components, plays a significant role in optimizing these testing processes with their Midsize Proportional Valve Electronic Pressure Regulator and Digital Mass Flow Meter.
Understanding Fuel Cell Leak Testing
Fuel cell leak testing is a procedure employed to detect any gas or fluid leakage from fuel cell components, ensuring their integrity and efficiency. This is essential for several reasons: safety, performance, and cost-effectiveness. A small leak can lead to considerable energy losses, potentially dangerous conditions, and unnecessary maintenance costs.
Applications that necessitate fuel cell leak testing are diverse and expansive. They include automotive fuel cells, backup power systems, portable power devices, and more. In these systems, leaks can impair overall performance and can pose safety threats due to the potentially explosive nature of the fuels involved.
Membrane Permeability Testing
In parallel, membrane permeability testing assesses the permeability rates of fuel cell membranes. This ensures their ability to effectively separate gases, crucial for optimal fuel cell performance. If a membrane is excessively permeable, it can lead to inefficiencies, cross-contamination of gases, and reduced cell longevity.
Kelly Pneumatics: Revolutionizing the Testing Process
Kelly Pneumatics has been instrumental in enhancing the efficiency and accuracy of fuel cell leak testing and membrane permeability testing. The Midsize Proportional Valve Electronic Pressure Regulator and Digital Mass Flow Meter, two standout products from their portfolio, have been specifically designed to cater to these high-precision processes.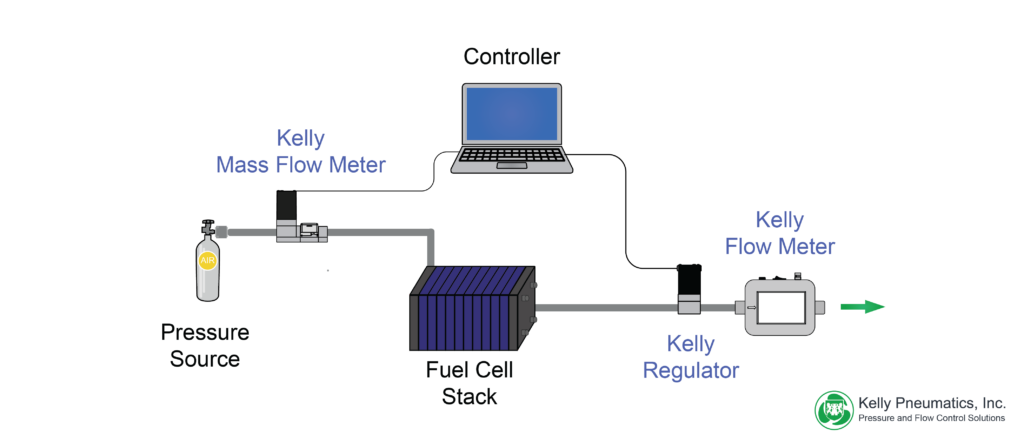 The Role of Mass Flow Controllers
In our context, the MFC plays a central role in fuel cell leak testing. While the midsize proportional valve was primarily used for controlling the volume of gas flow during leak testing, the MFC has revolutionized the process by not only regulating but accurately measuring the gas flow in real time.
An MFC ensures precise gas flow measurement due to its integrated flow sensor. This device provides constant readings of the actual flow rate, allowing for instantaneous adjustments and offering a high level of control and repeatability. This has significantly improved the efficiency, accuracy, and safety of fuel cell leak testing.
The Impact on Leak Testing
Integrating MFCs in fuel cell leak testing has had profound impacts. Here's how:
Better Precision: The MFC's capability to measure flow rates with precision is unparalleled. This aids in the quick detection of even minor leaks, improving the overall efficacy of the tests.
Increased Efficiency: With the MFC providing real-time measurements, the time required for leak testing has significantly reduced. It eliminates the need for repeated tests, thus saving resources and enhancing productivity.
Greater Safety: Precise control of gas flow minimizes the chances of excessive pressure buildup, enhancing the safety of the procedure.
Reduced Costs: With improved precision and efficiency, the need for repeated tests is minimized, which leads to substantial cost savings in the long run.
The Midsize Proportional Valve in Auxiliary Roles
Even though the MFC has taken over the central role in leak testing, the midsize proportional valve still has important auxiliary roles to play. It can be used to regulate the gas flow at specific stages where precision control is not required, thereby providing a backup system that maintains the gas flow when the MFC is not operational. This hybrid approach makes the entire process more resilient and flexible.
In conclusion, the introduction of mass flow controllers in fuel cell leak testing has paved the way for advancements in safety and efficiency. Although the midsize proportional valve no longer plays a central role, it remains a valuable auxiliary component. As we continue to evolve in the green energy era, the integration of these advanced technologies promises a safer and more sustainable future.
Digital Mass Flow Meter
The Digital Mass Flow Meter is another stellar product from Kelly Pneumatics, providing real-time measurement of gas flow rates. In fuel cell leak testing, this device enables precise detection of gas leaks by accurately measuring the gas flow rate.
Similarly, during membrane permeability testing, the Digital Mass Flow Meter plays a critical role by measuring the exact rate of gas permeation through the membrane. This offers insights into the membrane's effectiveness in separating gases, contributing to overall fuel cell performance and safety.
Conclusion
Fuel cell leak testing and membrane permeability testing are crucial procedures in the fuel cell industry, providing safety and performance assurances. With Kelly Pneumatics' Midsize Proportional Valve Electronic Pressure Regulator and Digital Mass Flow Meter, these processes are executed with higher accuracy and efficiency. Embracing these advanced solutions will undoubtedly lead to improved testing results and, consequently, better-performing, safer, and more cost-effective fuel cell systems.